Elaine's Blog
Looe to Polperro, SW coastal walk
We decided that we would like to walk a small part of the South West Coastal Path. After looking at the maps we decided that the Looe to Polperro section looked like a good place to go and neither of us had walked that part before.
The map said that it would be around 5½ miles one way.
Looe is an attractive coastal town in south east Cornwall offering lots of shops and places to eat together with a sandy beach, which is about 30 miles from the cottage, approximately 1 hours drive by car.
From Looe you can take a safari boat trip out to Looe island to hopefully see seals, possibly dolphins and many costal birds.
The weather wasn't great, a little dull and cloudy but no rain, ideal for a brisk stroll across the cliff tops. After careful consideration we chose to start our walk in Looe as it is easier to park there than in Polperro. We left home quite early and arrived in Looe at about 08.30. We parked in West Looe Car Park which was quite convenient and much cheaper than the car park on the east side of the bridge. It is a long term car park and you pay on exit, we paid about £5.80 for the time that we were there.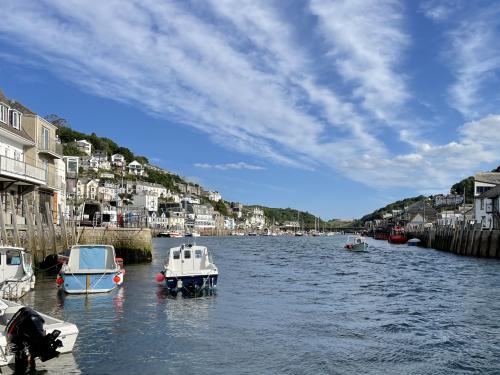 After leaving the busy town of Looe we walked along the quay on the west side of the river where we saw a lovely bronze statue of a Grey Bull Seal who only had one eye and was a favourite of the locals for many years.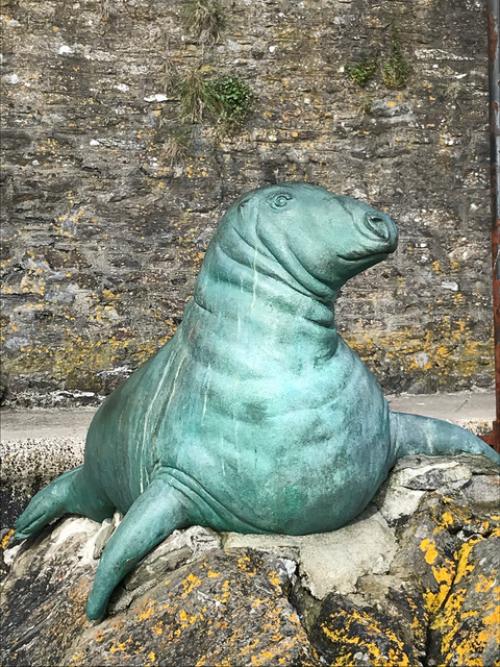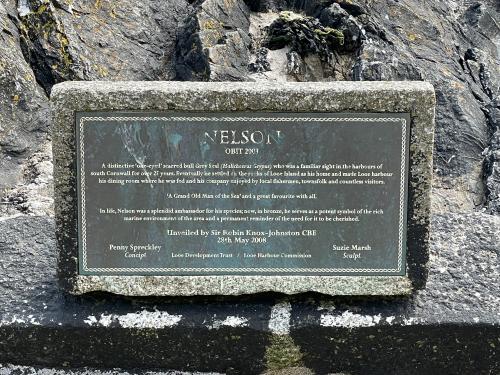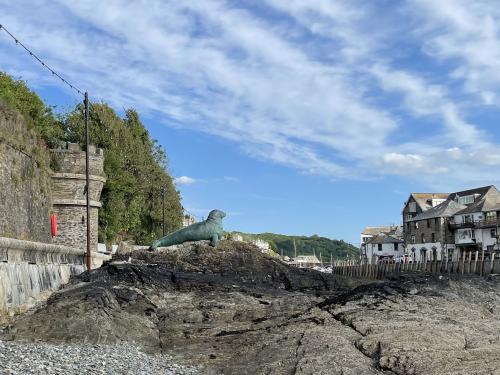 Looking back to Looe as we left the harbour walls we enjoyed the lovely sight of the crystal clear waters and Looe beach.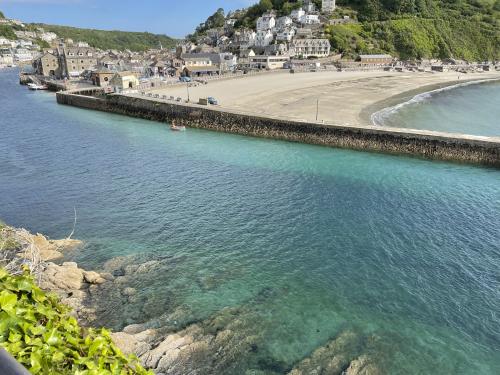 The first part of the walk was easy as we were walking on pavements, the pace was gentle with a fairly flat and even surface.
About a mile further on the terrain got slightly more challenging. The further we walked the clearer it became that this walk is not suitable for people with pushchairs or buggies etc as there are some steep steps and narrow tracks along the way.
The path is well signposted and the views really are beautiful
We saw an abundance of coast loving birds including Little Egret, Shag, Cormorant and various Gulls together with Stonechats, Robins, Wrens, Blackbirds and Thrushes. The real highlight was a brief glimpse of a Peregrine falcon gliding past.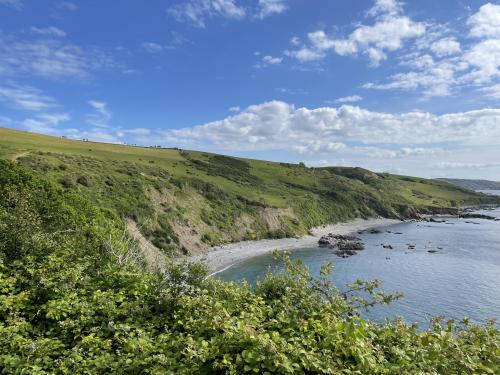 After about 75 minutes we reached Talland Bay (Home of Richard & Judy Madeley) This made a great midway point with toilets and a cafe where we enjoyed a welcome break.
By now it was getting quite hot with just a few fluffy clouds in the sky. This is a pretty bay where we were grateful to be able to stop for an ice-cream and drink.
We took a short rest and admired the beautiful cove then continued our journey. After a short but steep climb up a road we tackled more inclines and descent's on narrow paths. It really was becoming a lovely walk with many beautiful flowers to look at on the way, we saw bees, crickets, one lizard and lots of butterflies and moths too.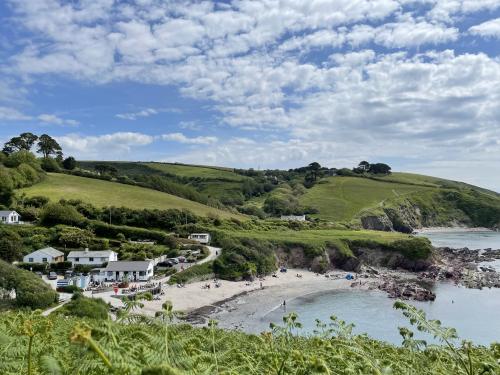 Eventually after a fairly hilly walk we arrived in Polperro where we headed for the quayside to reserve our place on the boat back to Looe
Once our seats on the boat were confirmed we wondered around the village and then sat down and had a lovely sandwich and drink at the The Wheelhouse Cafe whilst waiting for our boat departure. The cost of the ferry boat was £12.00 per person one way. The boat only takes 12 people so booking is essential.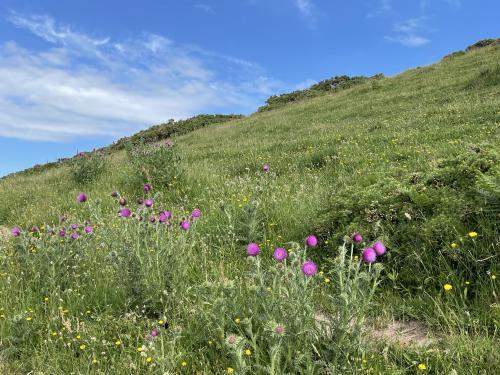 Polperro is a small fishing village with some interesting shops, pubs, cafes and restaurants.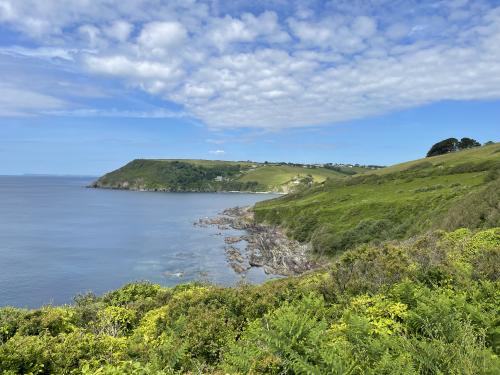 WARNING
Watch out for the seagulls. We saw one swoop down and steal someones ice-cream. The bird was so quick the rightful owner of the ice-cream didn't stand a chance. It was funny to watch but we did feel sorry for the lady concerned.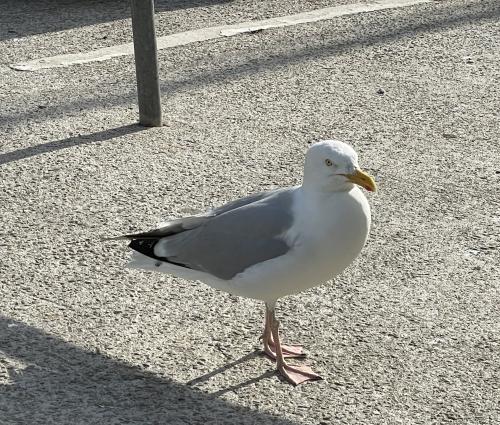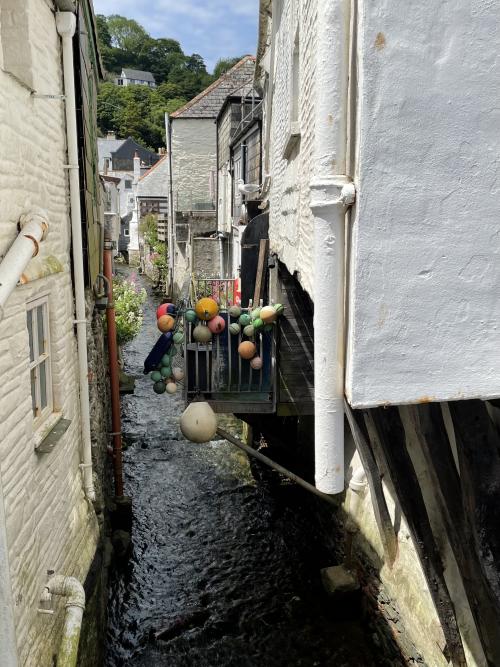 CONCLUSION
We enjoyed a lovely walk with beautiful views along the way. The walk took us about 2½ hours including stopping time.
We had not been in a rush we stopped and started whenever we fancied. Whilst walking we met no more than 30 people and their dogs on our whole journey. It was lovely and peaceful and not too challenging but definitely worth the effort. We enjoyed the boat trip back but it is possible to catch a bus instead.