Elaine's Blog
South Devon Railway - Steam Railway Journey between Buckfastleigh and Totnes
Today's outing was to South Devon Railway, Buckfastleigh to Totnes a real favourite of ours. We try to go at least once a year
As usual, straight after breakfast, Robert, Pebbles and I set off in the car heading for Buckfastleigh. We drove for 22 miles straight across the middle of Dartmoor via Princetown. The whole journey took 40 minutes door to door. On our drive we saw sheep, ponies, cattle, birds and a great view of Dartmoor Prison, pretty rivers and tors as well as the lovely views that Dartmoor offers.
I am always fascinated by the ever changing skies, dependant on the weather conditions and the light. No two days look quite the same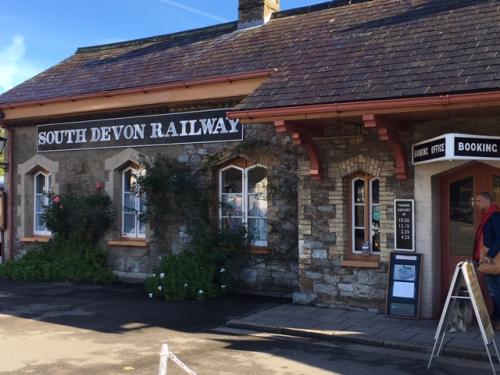 In peak season the train runs seven times per day, reducing to three trains per day out of season, so before setting off in the morning we checked the train timetable to make sure we were not going to get there just in time to see the train leaving the platform. We much prefer the steam train to the diesel one so we checked that as well
If you do get there early there is a cafe, a gift and model shop and if you are a keen enthusiast you can even look around the workshops
There is plenty of free parking and there are toilets in the cafe and on the platform too
If you prefer you can do the journey in reverse but we always start at Buckfastleigh as the parking is better and it's free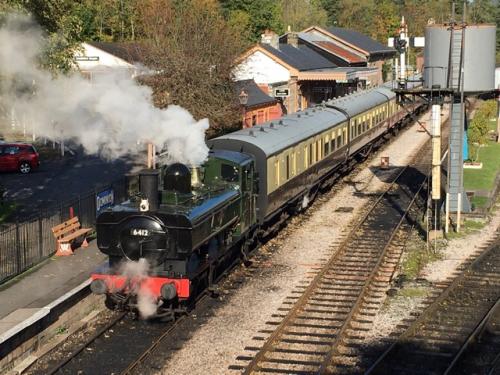 South Devon Railway is a picturesque steam railway which has been run by volunteers for the last 50 years. It is the longest established steam railway in the South West. In its previous life it was the Great Western Railway branch line which was built back in 1872.
This attraction is great for families and people of all ages and staff are happy to offer the use of a ramp for people with limited mobility
Dogs are welcome too, "a pound for the hound" is what the lady in the ticket office says!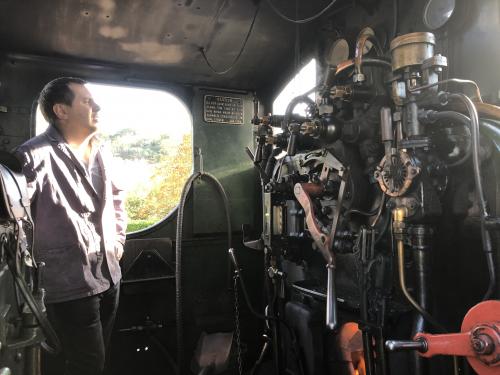 Starting at Buckfastleigh the train ambles nearly seven miles along a stretch of track which runs next to the River Dart. We just sat back and enjoyed the views, taking pictures on the way, relaxing and listening to the rumbling, chugging sound as we went.
We arrived at Totnes about 30 minutes later where we got off of the train, walked along the platform and headed for the town centre. The signpost says it is about ½ mile walk so it is not too far and most of it is on footpaths. You do have to cross one road but there is a traffic light controlled pedestrian crossing. Totnes is a vibrant, if a little bit "hippiefied" town with lots of cafes, restaurants and shops to look around.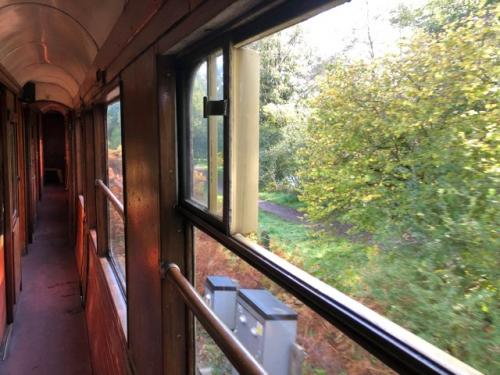 Once in town we went straight to a cafe for coffee and then after a short interval we headed off up through the town walking under the famous clock tower and mooching around the various artisan shops. Much like Tavistock most of the shops are independent although there is a selection of small clothing chain stores like FatFace, SeaSalt and Crew Clothing. Totnes is also famous for "Conker shoes" offering beautiful hand made leather shoes, boots and bags in a wide range of colours all of which are still actually made in the store in the high street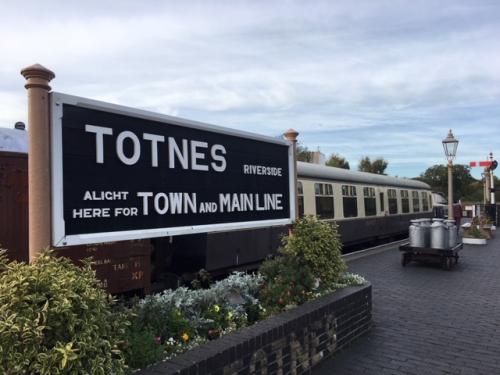 We walked up the hill to the top of Totnes and then back down the other side and by then we were looking forward to lunch and Pebbles was ready for a bit of a rest. We went into the Seven Stars which is a pub/hotel on the left hand corner at the bottom of the hill. We had a lovely Roast Sirloin Beef lunch with roast potatoes and Yorkshire pudding.
We do like a desert after a meal so we decided to walk half way back up the hill just beyond the clock tower where we stopped off again, this time for an ice cream. Delphini's Gelato make amazing ice cream, the flavours vary each time we go but I have never had a bad one in there. You may have to queue for a few minutes but the wait is worth it. The staff are alway friendly and very welcoming.
After enjoying our ice creams we made our way back to the train station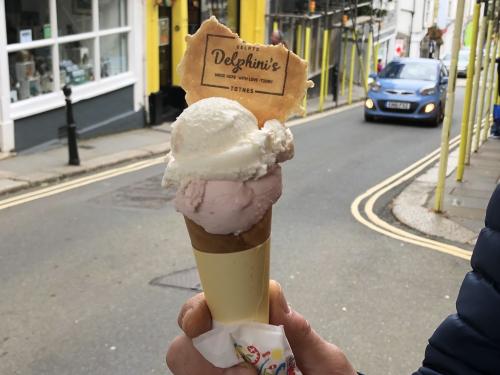 We got back to Totnes train station a bit early so we wondered around admiring the old fashioned tin signs which are dotted up and down the platform. The signs were showing their age with a little bit of rust here and there, they advertised a range of items from cigarettes and sweets to Land Rovers. Also at the station there is a large disused railway carriage which is full of old railway magazines which can be purchased, many at just 20p per copy.
After our look around we went to get another drink. To get to the cafe we walked to the end of platform where we crossed over the railway track into the entrance of the Rare Breeds Farm. We didn't go into the actual farm as we had Pebbles with us and unfortunately dogs are not allowed in, but it was a lovely day so we just sat with a coffee and watched the world go by for ½ an hour. By the time we had drunk our drinks it was time to cross back over the lines to the main platform so that we could listen and watch for the train to come in.
We watched as the train pulled majestically into the station with steam puffing out all the way it went, what lovely sight it was, these trains always remind me of the story of the railway children.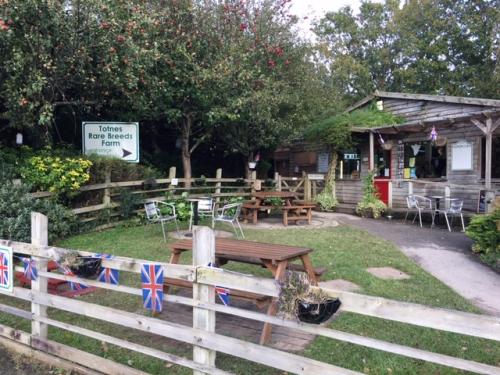 All the passengers got on the train and then slowly we pulled away from the station and headed on back to Buckfastleigh
When we got there we walked around a bit and then got back into the car and headed home as Pebbles was struggling a bit and showing her age. She was doing well but we know her and we can read the signs. She lets us know in her own way when she has had enough. We sometimes forget that she will be 14 in December!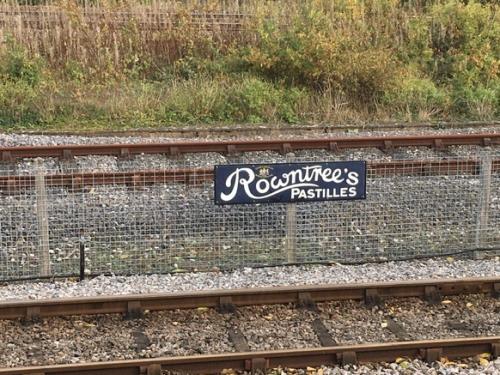 Additional information about Totnes
On Thursdays from April to the end of October you can meet up with a local guide Kathy who will talk to you about the history whilst walking around the town. Meet at the Totnes Tourist Information Office in Market Square at 10.30 am if you wish to take the tour
Friday is market day and Totnes always packed with local and artisan produce including cheese, bread, cakes, meat and fish, new and vintage clothing, hand made & second hand jewellery, furniture and of course the usual bric-a-brac.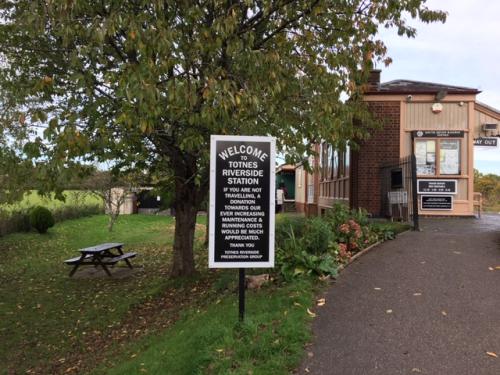 If we had been on our own we would probably have gone into the Buckfastleigh Otter and Butterfly Farm. I have been a few times before, it is amazing and very interesting. Some of the butterflies are as big as my hand and if you have enough patience you can actually watch them hatching out of there chrysalises. The otters are great to see and all have their own characters. It is worth trying to plan your trip around feeding time! If you do decide to visit, you can buy a special "Three Great Attraction Ticket" this gives you access to Buckfastleigh Otter and Butterfly Farm, The Rare Breads Farm and a return trip on the Train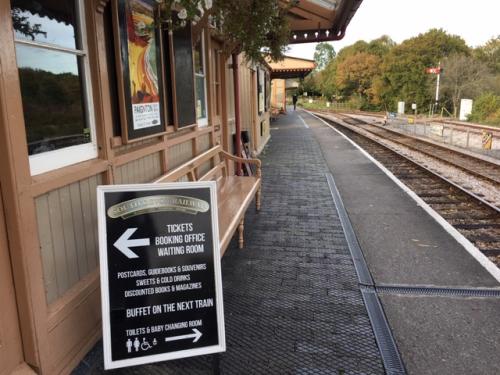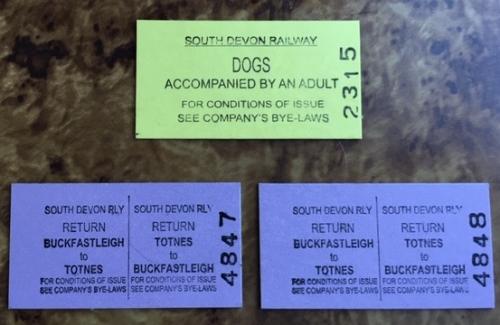 Suitable for able and disabled people
Suitable for children YES
The train is suitable for Dogs YES, on leads and must not get on the seats on the train
This year South Devon Railways offered some "special Events" too, these included:-
"Half price weekends" Spring and Autumn
"Day out with Thomas"
"Rails and Ales"
"Heritage Transport Gala and Behind the Scenes Weekend"
"British Legion" Poppy Appeal
"An evening of Carols down the line"
"Santa by Steam"
"Boxing Day Specials"
I think they run specials every year so it is worth clicking on the link below to see what is going on in the future